Corporate Anniversary Event
In marketing, a corporate anniversary is a celebration of a firm's continued existence after a particular number of years. The celebration is a media event which can help a firm achieve diverse marketing goals, such as promoting its corporate identity, boosting employee morale, building greater investor confidence, and encouraging sales. As a public relations opportunity.
And when this celebration is by B2B company, offering discount on anniversary or media celebration doesn't work. B2b companies need to plan their celebrations differently in contrast to FMCG companies. It is a way for a firm to tout past accomplishments while strengthening relationships with employees and customers and investors. Many businesses use an anniversary to express gratitude for past success. Generally, larger companies have the means to stage more elaborate celebrations.
Company anniversaries and major milestones are rare and important events for any organization. And when this is fifty years golden jubilee celebration, this is very important and very recently we have managed same for one of our prestigious client.
50th Anniversary Golden Jubilee Gala Dinner Event For Voith
This was the occasion of celebrating fifty years milestone by Voith Paper Fabrics India. And they have decided to celebrate
Golden Jubilee, Gala Dinner Corporate Anniversary Event
for their employees and for their channel partners.The mandate for conceptualizing and managing the entire event was with
Showmakerz, best event management company,
after the skillful selection by client's Admin Department.
---
Plant & Facility inauguration
The day saw so many celebrations taking place in a single day like Inauguration of new building & machinery at their work space in Faridabad.
Entire plant was well decorated with red carpet welcome for their global partners and curtain unveiling set up for the inauguration of new building. Respected global leaders commenced the inauguration of new building with curtain unveiling and then lighted an auspicious lamp and coconut breaking ceremony as per the Indian traditions.
After this launch, there was a plant walk and a lunch and after all these ceremonies, everybody was all set to visit the ITC Maurya, New Delhi for golden jubilee gala dinner celebration event.
---
Gala Dinner Celebration - Venue Decor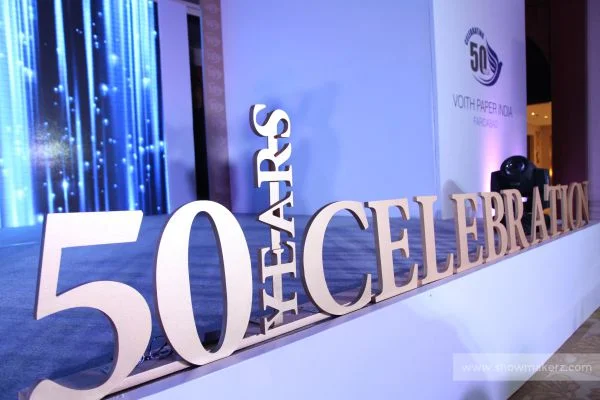 Showmakerz events delivered a glitch free spectacular show as usual. First half of the day saw an aesthetically decorated new building which was later inaugurated by eminent guests. And the second half of the day saw impeccably decorated ballroom at ITC Maurya, ready to receive global guests, leadership team & plant workers.
The entire ballroom and pre-function area was
well decorated
with many eye catchy & engaging props. Like wish tree, photo ops , history standees in digital formats etc. The theme for the evening black & gold was in sync with the event statement.
---
Event Introduction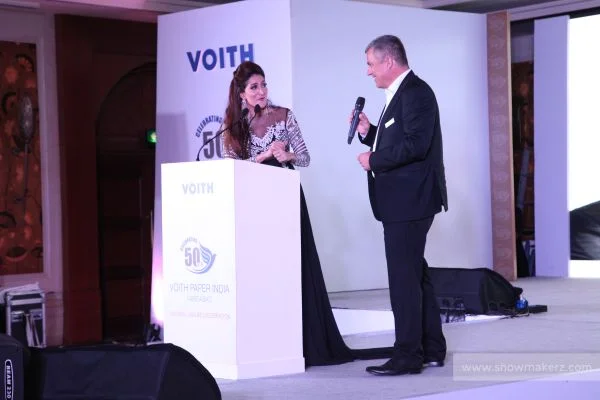 This corporate golden jubilee event was gracefully anchored by emcee Sonali Gupta. She engaged the audience with her wits and steered them through this beautiful evening. After a brief narration of the event, she called MD to share his vision on this occasion of Golden Jubilee, Gala Dinner Corporate Anniversary Event
A well produced history AV film took audience to nostalgic fifty years journey. Apart from Chairman, many other leaders and employees shared their memories and vision and thanked everybody for this successful journey of fifty years.
---
Event Entertainment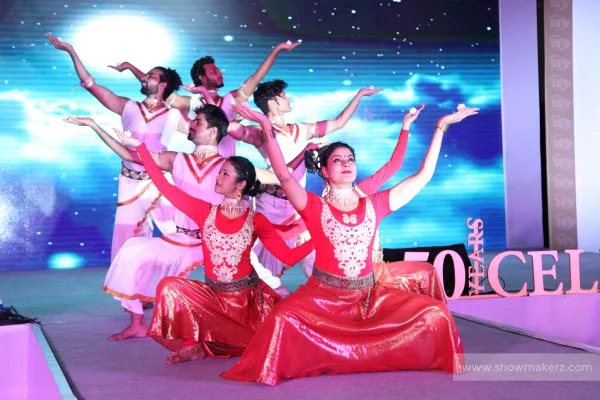 No event is complete without having a good entertainment. And this golden jubilee, gala dinner corporate anniversary event had a scintillating entertainment as per the theme of the event.
Specially curate dance performances by Sadhya Dance Group added opulence to this well organized event. They had customized their performances showing more and more classical and traditional heritage culture of India. They had specially prepared a classical fusion dance ending with the furling flags of India and parent country Germany.
---
Service Awards & Cake Cutting Cermony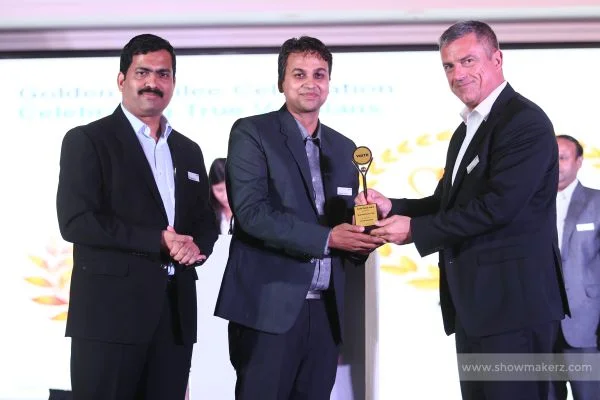 All senior employees were awarded long service awards and some other young talents were also recognized for their outstanding performances.
Emcee Sonali Gupta played her role very well by hosting this ceremony. She also engaged audience with her wits by going to their seats and engaging them in interesting tongue twister, quizzes and so many other things.
Her interaction session bring whole house in cheerful mood and then she announced most awaiting moment of the evening by calling all the leadership team over the stage for cake cutting ceremony. Everybody applauded with cheers and claps and slowly this beautiful evening of golden jubilee, gala dinner corporate anniversary event was coming to an end.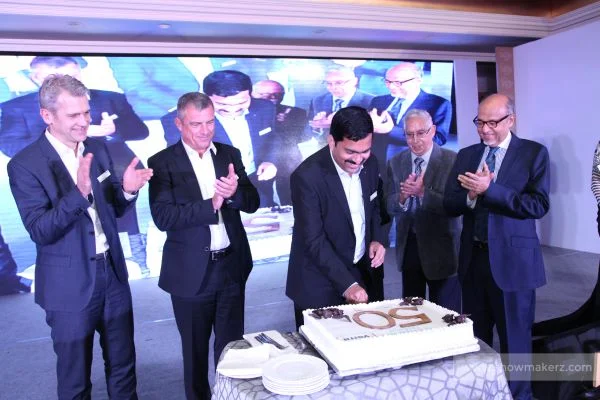 This followed by Live fusion of tabla, sitar and violin, which was the most enjoyed musical piece which left everybody mesmerized. Everybody appreciated the Showmakerz team and applauded them for their hard work, vision and flawless execution. And evening ends with drinks, buffet dinner and happy memories.
---
Showmakerz, once again proved their mettle by delivering a spectacular event and proved themselves as
best corporate event management company in Delhi Gurgaon NCR.
If you are looking to organize a similar event for your organization, please feel free to contact us to
book your next event with us.
---