What Are Corporate Events ?
Corporate events are the very important part of marketing mix of every organization. They serve a wide range of important purposes, focusing on everything from leadership conference to incentive travel to business meets to experiential marketing etc. Corporate events are also used as an important tool for employee engagement.
The variety of event sizes, goals, and budgets can make planning and executing a successful corporate event a meticulous task. Many decisions go into
Planning A Corporate Event,
from finding the right location and determining menu selections to finalizing decor and setup to branding to engagement etc.
And before actually plan an event, you must need to be fully prepared with all the ideas, data and other relevant information.
Corporate Event Management
Corporate event management process is a systematic approach to organize a successful corporate event to propagate the message proposed by the brand or by the company.
Corporate event planning companies
are the professional companies having all the expertise, experience and infrastructure to extend corporate event management services. Most of the time they have hundreds of
corporate event planning ideas
to organize your event successfully.
You may check here the list of
Best Corporate Event Management Companies.
The objectives of corporate events differ from event to event depending upon the demand of the process. Conferences and meetings are the most common types of events followed by brand promotion, experiential marketing and product campaigns.
Celebrating a company achievement or to bring a team together, many events for internal communication are also very popular like employee engagement events, incentive programs and town hall events. You may check below the top 10 corporate event planning tips.
---
Top 10 Corporate Event Planning Tips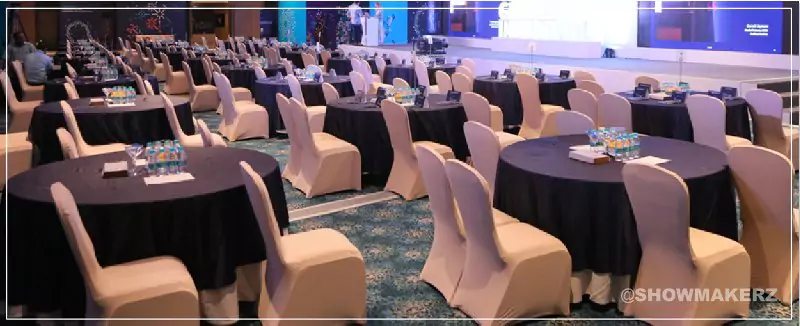 If you are looking to amaze your guests with most innovative event ideas, you must be looking for the more and more top tips and ideas for how to plan a successful corporate event. Here are top tips and ideas to help you to ensure a memorable success for your next corporate event.
1. Identifying Event Goals
2. Determine Your Key Audience
3. Set Budget
4. Start Early
5. Finalize A Venue
6. Be Creative
7. Plan Layout & Designs
8. Finalize Your Vendors
9. Allocate Responsibilities
10. Hire An Expert Event Manager
1. Identifying Event Goals
Before you start planning anything else like locating the venue or finalizing the guest list, you first need to establish the overall goal of your event. i.e. if this is for networking with dealers, or a new product launch or employees party.
Establishing the goal of the event will help you to set up for success in the rest of the planning process. It also helps provide context to the event so you and the attendees know what to expect.
2. Identify Your Key Audience
Identify your key audience and the key players. Suppose if you are planning an internal event for employees like employees conference or team building event, you need to understand the key speakers, company culture and their prior experiences with similar kind of events.
Similarly, before any event you need to understand your audience e.g. dealers, key clients, or sponsors, or vendors. Identify their expectations and plan accordingly to match them for a superlative event experience.
3. Set Budget
Take some references from similar past events and draft your plan accordingly. Trim down the poor value deliverables from the last past list of deliverable to cut cost or keep cost to a minimum.
You may find need to invest in additional resources for improving the flaws of previous events. Previous event surveys may give you some helpful hints, especially around whether resources were over- or under- programmed in the past. This may suggest you to set up the budget this year.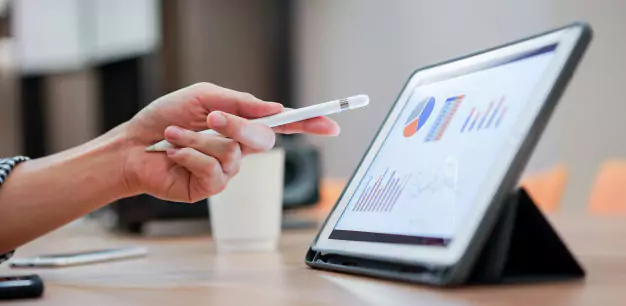 4. Start Early
Well begun is half done. Similarly early beginning is like giving your task a productive head start. Begin planning as soon as you possibly can. If your event is a large event you should realistically begin planning it three to four months in advance. If you are starting well in advance, you will have ample time to concentrate even on the smallest concern like design and font size for parking signage.
Smaller events need at least one month to plan. To keep the final run up to the event flowing smoothly, try to prepare a checklist as soon as possible and start freezing the things one by one effectively.
5. Finalize A Venue
Venue selection is very important task as the venue you select will set the tone for your entire event before the actual event. After profiling your event in terms of objective, the number of attendees required display area etc , selecting the venue becomes your first major task.
Must take care of your event style, size, and atmosphere while selecting a venue. Consider those venue which align best with your location preference and logistics. If you need help of expert event planner to find you a good event venue, contact Showmakerz for their
free venue suggestion service.
6. Be Creative

Corporate events are the excellent opportunity to show off your company's goals, products or services. But in any way this should not be flat or boring. Objectives of any corporate event is not met unless their audience is not carrying good and exciting experiences back with them. We live in a world where experiences are valued more than ever before. People prefer to remember experiences than other things.
And the best idea to be creative in any corporate event planning is to create experiences. It could be anything as per the format of the event like for conference event you may plan a eco-friendly / handmade conference kit with plant-able seeds and by this way you may be remembered as a environmental friendly company which will gives you a positive image. Similarly you may plan interactive photo booth, digital graffiti, 3D mapping, thread art logo, food installations and alternate seating etc.
7. Plan Layout & Designs
Nothing is more disastrous in an event then a bad layout. Make event layouts and seating arrangements simple and workable keeping in mind the event purpose. Try to mark the area in groups like sitting area, food area, recreation area. Don't plan a over stuffy layout, plan it breathable. Make use of every possible inch of venue space. Try to balance the whole layout - like don't put two heavy elements like stage set and activities area near to each other. A good breathable and well positioning in your event layout can contribute majorly in the success of your corporate event planning process.
Similarly all creative and collateral designs should be plan well in advance. Always follow the brand guidelines while adapting any artwork. Give proper attention to placement of logo as no client can tolerate the bad placement of his logo. Try to take printing proof and always take the approval of the complete set of designs from client. Never go ahead without taking approvals from them as they are the best judge to tell you how they would love to see their branding.
8. Finalize Your Vendors
One your done with all paper work, venue recce, layout planning, designing and approvals, it's a time now to finalize your vendors. Don't leave this to last moment. Start finalizing your vendors as per their importance in priority level - most important vendor first -like caterer first.
Shortlist at least three vendors for each job, meet them personally, make them understand complete flow of your event, take their quote, negotiate well and finalize. Beside cost factor, give a due priority to their experience, proximity to venue, owned infrastructure etc.
9. Allocate Responsibilities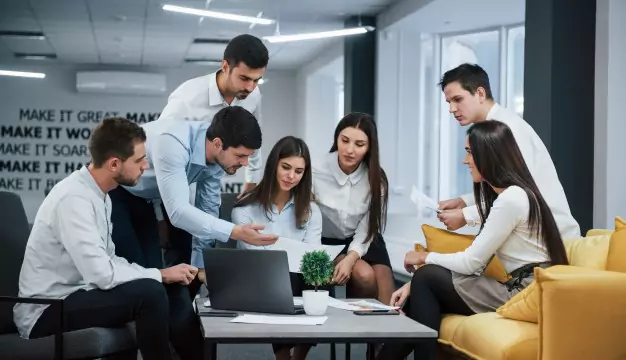 Great things in businesses never done by one person, they are done by a team of people and corporate event management is not any exception. Infect corporate events are real time live events, where there is no retake so meticulous planning and flawless execution is much required. And that's why a team of hardcore enthusiastic event professional is very much required to coordinate each department independently.
Assign a manager for every service head involved i.e. one for the stage unit, one for the technical, one for the F&B and as per the size and nature of their service area they may have many other coordinators in their respective teams. Delegate their jobs well in advance, have regular meeting with your team members and discuss everything in details for a no nonsense brilliant event delivery.
10. Hire A Corporate Event Planner
Corporate event planning is a meticulous task and need seasoned event professional to plan and execute the complete planning process. Without the help of an event planner, you may end up coordinating information between venue, decorators, entertainers , and your organization.
Choosing a professional
Corporate Event Planner
with the know-how and experience to handle all aspects of your event will make the entire process a breeze.
Experienced and
Expert Event Professional Like Showmakerz
have connections and resources to streamline every detail of your event, making sure you're not trying to coordinate with multiple vendors on your own. This can help ensure that your event runs without a hitch and that you maintain a cohesive look and feel across all parts of the event.